How Quirky Flooring Transitions Can Refresh Your Home with Minimal Effort
One can easily create visual appeal and add an ultra modern vibe to his/her home by using dramatic flooring transition patterns and design ideas.
Whether one decides to go with solid wood, vinyl, laminate or engineered wood flooring for their home, incorporating some unusual design ideas & flooring styles can make the property stand out & also can make it look stylish & contemporary.
Simple straight line transitions are now a little dated. Interior designers nowadays are experimenting and coming up with unique transition ideas between the same or different materials.
If someone wishes to add a little drama to their home décor then one needs to try a modern flooring transition between two flooring materials like wood & ceramic tiles or wood & some mosaic tiles.
Stylish patterns such as geometric design can also be a great choice.
Using some innovative design elements, you can make your home look stunning.
In this article, you will get some design tips and style inspiration to help you refresh your space. Hope it will spark creativity!
So without further ado, let's get started.
Monochrome Transition
This one is simplest to create, and it is achieved by transitioning between two different flooring materials in similar colours. For example, you can use two flooring materials, say engineered wood and luxury vinyl flooring in similar shades.
You can also experiment with dramatic floorboards, be it laminate flooring or vinyl tiles along with wood flooring. The idea is to use both the materials in similar colour tones.
You can separate two areas using textures and patterns, keeping the colour palette for both materials same.
Explore the flooring materials available at One Step Beyond online and find out something that complements your décor and lifestyle. They have a wide range of options to choose from, including engineered floorboards, laminate and click vinyl flooring. You can also find floor accessories to give a seamless finish to your renovation task.
Hexagon Transition
With wood floors, when you use hexagon tiles for transition, it looks stunning and lends an ultra modern style to your space. You can use this type of transition in the kitchen, living room, entryway or bathroom.
For example, it will look great if you have an open kitchen setting. So you can have this transition style between the kitchen and dining room.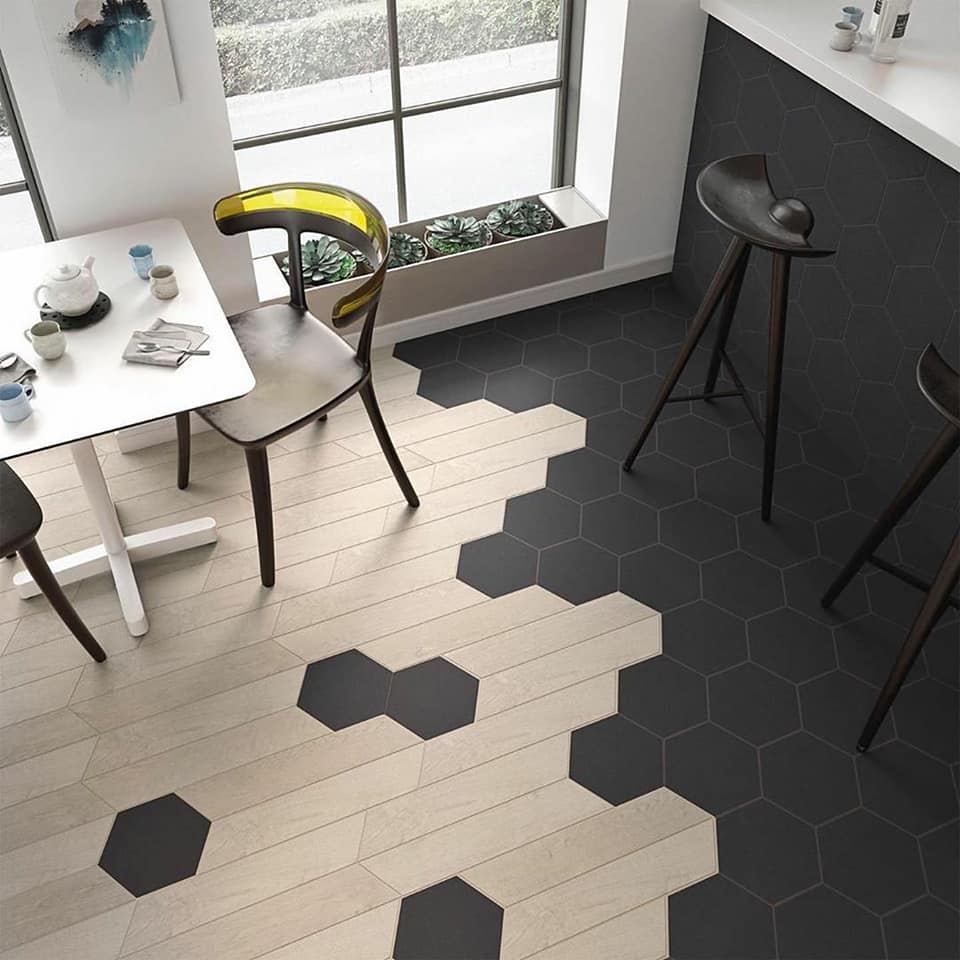 Image Source: Decor Inspiratior
In the bathroom, you can use hexagon tiles around the area surrounding the bathtub, thus creating a luxurious look.
Other geometric patterns too can be used to create visual interest. The transitioning should be smooth and seamless, however try not to overdo it. Both the flooring types must blend aesthetically.
Slope Transition
Metal and rubber transition strips are available that can come in handy when creating a slope or uneven transition. In this type of style, one floor is higher than the other and a slope is created.
Wood and laminate or wood and vinyl flooring materials can be used to create unique looks.
Major benefits of unique transitions
Dramatic transitions help in improving the visual appeal of your property.
Using creative transitions, you can highlight the partition or division of different areas or rooms cohesively.
They help in creating a flow from one area to another.
They not only enhance the aesthetics of your space but also improves the functionality. For example, when you use a transition in your bathroom, especially around the bathtub, you save the non water resistant flooring from water splashes by using the water resistant flooring in that area.
When your home looks ultra modern, the price of your property goes up.
Tips to Keep in Mind
When planning to go for a monochromatic transition, you can choose a colour that matches your furniture and walls.
If your room is small, select light colours when choosing the flooring.
Waves and zigzag transitions are perfect for the entryway or living room.
Use water resistant materials for the areas such as the kitchen and bathroom. Avoid using solid hardwood and carpet in these areas as they can easily get damaged.
When picking the same material, you can achieve an amazing transition by using different patterns.
Liven up your home! Get your creative juices flowing and with the help of your interior designer, try creating exquisite transitions with a flawless finish.
Dofollow