Why Choose Magento e-commerce Web Design?
With the striking number of online shoppers rising globally, all businesses are trying to have an online presence for their products and services. The e-commerce sector is said to hit around $638 billion by 2022. Obviously, this is an amazing time for web design companies to thrive and develop better user-friendly websites for consumers.
There are many e-commerce web development platforms in the market, but Magento e-commerce is one of the most robust, user-friendly platforms- a fan favourite, you might say!
Magento tops the chart for its optimal features like shopping cart systems, content and functionality control, catalogue management, and user-friendly storefront.
According to reports, the platform holds an impressive market share of 4.55% with clients like Nike, Coca-Cola, and Samsung.
If you are planning to make an online presence for your store, we suggest using Magento e-commerce. Here's why.
Better UX and UI
Studies show that around 90% of customers will shop from websites that guarantee a seamless user experience.
Keeping with the notion of "Simplicity is the key," Magento has an easy navigation system despite all the necessary functions and elements. With Magento, pages are reported to load 43% faster. Things like quick check-out processes, multilingual searches make your conversion rate 200% higher.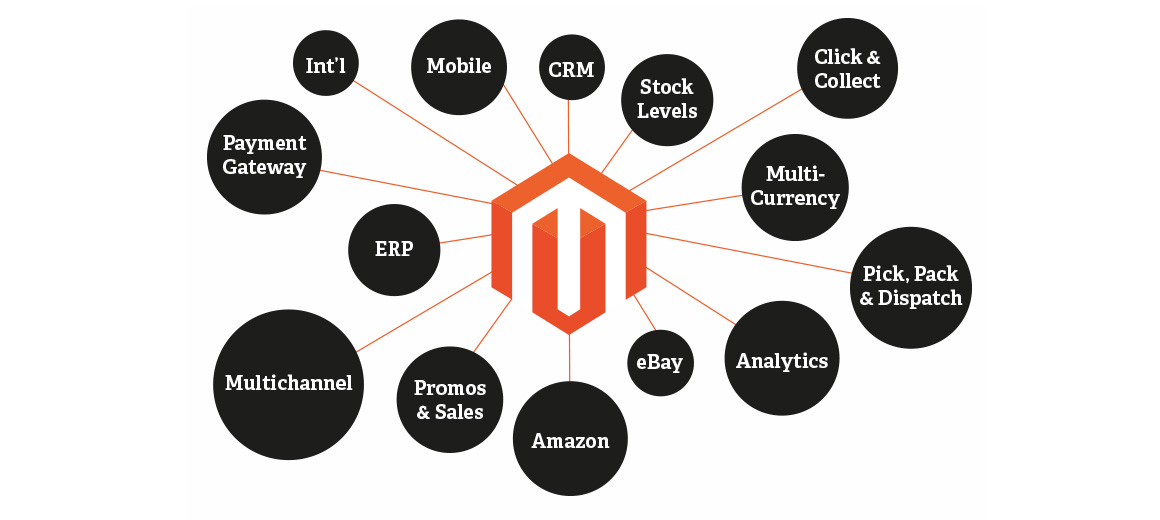 A range of extensions
Magento web design has a plethora of e-commerce applications. One of which is its numerous variations of modules or extensions that can be grouped into-
• Customer experience
• Site management
• Marketing
• Integrations
• Themes
• Utilities

These extensions help to boost the functionality of the websites by extending the codes. Some of the extensions are even free. Moreover, if you need customised extensions for your website, the developer will be able to create that. But for this, you need to find a team of expert Magento developers who thoroughly know the platform.
Content management is easy
A website with solid content is the key to drive in users. E-commerce platforms that suit perfectly with your website content are essential for online customers.
Magento offers customisable layout designs and templates to generate innovative content for online traffic. The CMS pages in this particular platform don't require complicated coding knowledge, and you can modify or update the content through simple techniques.
An open-source platform
Unlike many web design platforms, Magento is a free and open-source platform. This is a blessing for smaller companies with limited capital.
By hiring experts, you can not only develop the website but also allows you to promote your store with the help of Magento modules. You can easily customise and align the website's look according to your business model by adding features and themes.
SEO-friendly website
Apart from its inbuilt SEO optimisation tactics, Magento also has custom SEO implementation to get online traffic and increase the SERP ranking of your site. The platform enables you to track visitors, which helps to create a more personalised experience for your visitors.
Studies recently have indicated that 57% B2B businesses rely heavily on SEO optimisation for better leads and conversion rates. Magento, with its SEO-friendly platform and sitemap index support, can boost your online visibility.
Mobile responsiveness
Around 60% of online buyers shop from their smartphones. Therefore, developing a responsive website design is a key element to get more customers for your website.
Magento has features like Magento Blank and Luma Themes that boost your e-commerce website compatibility with mobile phones. Furthermore, this platform supports HTML5, which enhances the shopping experience in smartphones by adjusting image sizes, video support, etc.
AI-driven personalisation
To better the UX/UI, Magento has incorporated artificial intelligence and machine learning technology to support a personalised shopping experience for customers.
AI-driven personalisation will help companies to track consumer behaviour through algorithms. With machine learning, you can easily track the right customers for the right product that will hike your conversion rate and customer engagement.
In fact, surveys show that the "Trending," "Most purchased," "Recommended for you" sections entice 91% of customers to purchase more or add more to the cart. This whole 'Product Recommendation' is based on machine learning and artificial intelligence integration.

In conclusion, whether you own an online store or planning to start one, choose the platform that will fit your goal and budget. With its incredible features and affordable development cost, Magento is a top choice for even world-known enterprises.
KOL Limited has experience Magento developers, efficient in creating a module that works perfectly with the architecture of your website.

Dofollow