How to Effectively Use Custom Printed Shipping Boxes?
A box is just a cover for the products. Right? Yes, if you are delivering next door, and no, if you are an e-seller trying to expand your brand awareness to more customers. When vying for the latter, you need custom printed shipping boxes to do the job for you.
A constant increase in e-traders and changing perceptions of customers have put on added pressure for brands to keep reinventing themselves. Your brand can become a household name once the boxes speak favorably about it. The real reason behind this is that customers remember brands by the way they appear. And for e-sellers, that is done through their packaging boxes. These must be effective in the following departments:
Great look
Excellent box construct
Perfect for branding
Could a brown standard box do all the above? I think not! This is where customization helps. It means that you can create your shipping units as you like and according to the latest customer preferences. Most well-known businesses use these boxes for more than one purpose. They utilize them for delivering products undamaged while educating potential buyers about their brand image. Such creativity helps to utilize the boxes for multiple tasks and hence enhance your brand's productivity.
However, the important thing here is to know how to carry the boxes with dignity and charm. The following tips can surely enlighten you to use the boxes in their best capacity.
Never comprise on quality
Businesses can save on material costs when they opt for low-grade boxes. But what it does to the brand repute costs far more than getting better stock paper. Your brand must never compromise on the quality of the stock paper used to craft the boxes. They are the first thing customers notice when your orders reach their doorsteps. Imagine the negative impact when they open the boxes to find the products damaged. It would cause an irreversible adverse effect!
Your brand must aim to make the consumers happy with their purchases. The first step towards getting there is to make the boxes strong enough for shipment. Custom dimensions' aid to incorporate the product requirements within the boxes. you can package sensitive and perishable items without them getting mutated along the way. When customers witness your brand as effective and functional, they would surely order again and recommend your brand to others too.
Eliminate wastages
This is also possible when the dimensions of the boxes are tailored for the products. Many times, sellers buy boxes that are far too big for their items. You can shun this practice by opting for customized sizes. Also, innovative shapes help to use the stock paper more creatively. Some popular options are:
One-piece mailers
Folding cartons
Gable boxes
Auto-lock boxes, among other custom designs
Lower material costs and better product protection are bound to work positively towards enhancing your profitability. You also wouldn't need to spend extra on marketing your brand. Custom printed shipping boxes can promote your brand via innovative marketing content placed on them. This may include your brand logo and name. These are the strongest elements that impose the brand image on your customers. Even while being shopped, the boxes would give branding vibes to people and convert them into loyal customers.
Create a compulsive demand for your brand
How can you achieve this when you are selling online? The boxes help with that too!
Firstly, your ad campaigns can be reflected off your packaging boxes and inform clients of your brand identity and what it offers. Alluring boxes that are innovatively styled grab customers' focus. Repeated viewing of your brand logo would create a good level of brand familiarity among customers. They would feel a strong urge to find out more about your brand at online portals and try your products.
Secondly, when your shipment reaches the buyers', the packaging boxes can make it a memorable contact. Right from the vibrant design on the boxes to the retainable unboxing feel, every purchase emotion can be improved using the boxes. have you ever seen unboxing videos online? What do they focus on? Apart from the products, the first thing they talk about is the packaging and how alluring it is. Potential customers view these videos before buying from your brand. So, make sure that they get a positive feel by making your boxes as creative as you can.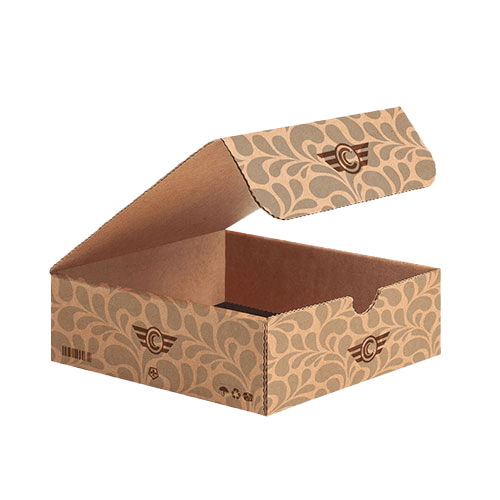 Box manufacturers are here to help you get the most out of the boxes. They aesthetically design boxes using:
Relevant colors that go with your product type.
Placing the brand logo at the most prominent box location.
Adding a creative edge to your box openings.
Premium inks that do not fade away quickly.
Combination of different coatings that give a bright look to the boxes.
Seeing boxes with exclusive appeal is bound to add value to your brand and convince buyers to go for it the next time they place orders online.
Use all the possible box facets
A norm for effective business activity is to use the resources well. the same applies to these boxes too. You must use them as a platform to achieve your stated objectives. You can see how the e-sellers organize their info on the boxes. Every inch of the boxes can speak about your brand's suitability to customer demands. For instance, Amazon can be spotted from far owing to its unique brand logo. Everywhere their boxes travel, more buyers can be educated about the brand's presence.
Your brand needs to reinstate its identity on buyer's time and again. Otherwise, they would forget it due to the sea of choices available. Using the boxes as your go-to branding choice will pay off better. Customers usually keep boxes that are strong and look elegant. This helps to inform others of your branding elements.
Conclusion
Custom printed shipping boxes adhere to many of your planned goals. The above are some productive tips on how to get them to work well for your business.
Dofollow